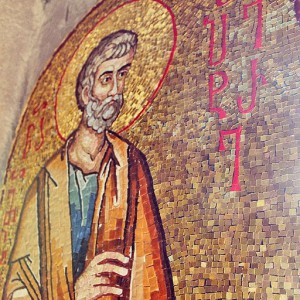 Εὐλογητὸς ὁ θεὸς καὶ πατὴρ τοῦ κυρίου ἡμῶν Ἰησοῦ Χριστοῦ, ὁ κατὰ τὸ πολὺ αὐτοῦ ἔλεος ἀναγεννήσας ἡμᾶς εἰς ἐλπίδα ζῶσαν δι᾽ ἀναστάσεως Ἰησοῦ Χριστοῦ ἐκ νεκρῶν,
Translation:
Blessed be the God and Father of our Lord, Jesus Christ, who according to his great mercy has begotten us again into a living hope through the resurrection of Jesus Christ from the dead,
Some Theological Notes:
1. The Titles. Notice the use of titles for God and Jesus. God is both θεός (God) and πατήρ (Father) with respect to Jesus, who is both κύριος (Lord) and Χριστός (Christ). It may seem odd to refer to God as the "God of our Lord Jesus Christ," but this is not the only time this occurs in the NT (see Rev. 1:6). Jesus refers to the Father as "my God" in John 20:17. The title Lord is often associated with Jesus' divinity in the NT, since it is the title so often used for God in the Septuagint (the Greek OT). The title Christ is the title for the Messiah, the anointed king.
2. The gifts of new birth and a living hope through the resurrection of Jesus Christ. Without the resurrection of Jesus Christ from the dead, we would not be begotten again (born again). Our new birth depends upon the resurrection of Jesus, because it is through the risen Jesus that we are born again. The Father raises Jesus from the dead and then Jesus sends the Spirit to give new birth to those who are dead because of their sins (John 7:37-39, 14:16-17, 16:7; Acts 2:33). Ramsey Michaels has a helpful comment on this. He says, "The redemptive act by which God has brought about new birth for a new people is finally made explicit as the resurrection of Jesus Christ" (1 Peter, 19). Those who have been born again have a "living hope," because of God's gift of life that they experience in their new birth and that they have seen exhibited in Jesus' resurrection from the dead.
3. Praise and thanksgiving to God. This verse begins the thanksgiving section that follows Peter's greeting in 1 Peter 1:1-2. The new birth and the hope that we have is because of God, his saving work, and his mercy. Peter elaborates on the goodness of God's saving work in 1 Peter 1:1-5, before he begins to speak about the suffering of the people of God in 1 Peter 1:6. Peter's words encourage us to hope in God and to praise him. Without the work of God, what hope would we have, especially in the face of suffering?
Coming Up: Notes on 1 Peter 1:4
This post is part of a series of posts on 1 Peter. To read the other posts in the series, click here.
Related Resources: