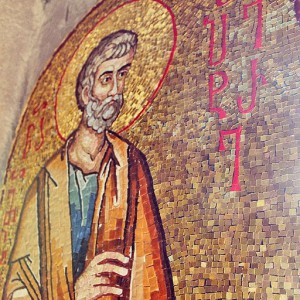 Πέτρος ἀπόστολος Ἰησοῦ Χριστοῦ ἐκλεκτοῖς παρεπιδήμοις διασπορᾶς Πόντου, Γαλατίας, Καππαδοκίας, Ἀσίας καὶ Βιθυνίας,
Translation:
Peter, an apostle of Jesus Christ, to the elect sojourners of the diaspora in Pontus, Galatia, Cappadocia, Asia, and Bithynia,
Grammatical, Lexical, and Syntactical Matters:
1. Problem raised by ἐκλεκτοῖς παρεπιδήμοις . When you read commentaries on this verse, you see disagreement regarding ἐκλεκτοῖς ("elect") and παρεπιδήμοις ("sojourners"). These words are both adjectives (see lexicon). The question is this: Are they both substantival adjectives or is one of them an attributive adjective? Recall that a substantival adjective is an adjective that plays the role of a noun, while an attributive adjective normally modifies a noun, but it could also modify a substantival adjective.
How would we answer this question? A Greek lexicon (that focuses on NT Greek) would indicate something about how these words are used in the New Testament, the Septuagint, and perhaps in 1 Peter as well. A quick search on Bible software would also tell you something about the usage of these words in the NT, the Septuagint, and 1 Peter. The second search proves quite useful here. In 1 Peter, ἐκλεκτοῖς is an attributive adjective in 2:4, 6, 9. It is a substantival adjective in some other cases in the NT (generally with an article), but not in 1 Peter. On the other hand, παρεπιδήμοις occurs three times in the NT. In the two other cases where it appears (Heb. 11:13, 1 Pet. 2:11), it is clearly a substantival adjective.
Therefore, based on this evidence, how would we answer our question? It appears likely that παρεπιδήμοις is functioning here and in 1 Peter as a substantival adjective, and ἐκλεκτοῖς functions here and in 1 Peter as an attributive adjective.
2. Grammar and syntax for the rest of the verse:
a. Why does this verse not have a verb? Notice that this makes it comparable to the opening of other NT epistles.
b. What is the function of ἀπόστολος? What makes this a good example of apposition?
c. What do you do with the string of genitives at the end of the verse? Could any of these be genitives of place?
Coming Up: Theological notes on 1 Peter 1:1
(Note: This post is part of a series of posts on 1 Peter. To read the other posts in the series, click here.)
---
Related Resources: