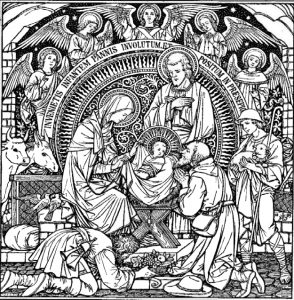 I recently posted Advent Bible readings for this year. I have prepared a handout in English and Spanish here. It might be helpful for me to provide a short guide to go with those readings. Here is my guide for week two's readings.
Week 2 – Bethlehem
Faith: The Proper Response to the Revelation
of God's Plan for Fulfilling His Promises
Sunday reading: Isaiah 7:1-16, 8:1-4; Matthew 1:18-23
Monday reading: Genesis 18:1-15, 21:1-8
Tuesday reading: 1 Samuel 1:1-19
Wednesday reading: 1 Samuel 1:20-2:11
Thursday reading: Luke 1:5-25
Friday reading: Luke 1:26-56
Saturday reading: Luke 1:57-2:7
Guides for Advent tend to label each week with a particular theme. The second week is often associated with Bethlehem and faith. So, I focus the second week's readings on how faith is the proper response to God's plan for fulfilling his promises. In particular, I look at several instances of stories of miraculous births that all show God's fulfillment of his promises. These stories demonstrate that God is faithful and trustworthy. He will fulfill his promises, sometimes in truly miraculous ways. Therefore, the proper response to God and to God's promises (or God's revelation of his plan) is faith. Reflect upon how God's promises and faith relate to each of this week's readings, including the promises of God to Zechariah, Elizabeth, and Mary in Luke 1-2.
In Isaiah 7:1-14, 8:1-4 (part of the first reading), King Ahaz and Judah are in a crisis situation. In the face of an attack from two kings, King Ahaz and his people are shaken by fear of being conquered. Their fear shows that their response to their circumstances is dominated by fear rather than faith in God. God says to Ahaz, "If you will not believe, you surely shall not last" (7:9, NASB). Through Isaiah, God promises Ahaz a sign to reassure him, and his people, of God's deliverance from his enemies. His sign of salvation will be the birth of a child, whose birth is the subject of Isaiah 8:1-4. In light of God's promise of deliverance, the proper response to God should be faith, for the child is a sign that "God is with us" (Immanuel, 7:14).
The use of Isaiah 7:14 in Matthew 1:21-23 is probably an instance of typology (see my prior blog post on Matt. 1:21-23 and typology). The promised child of Isaiah 7:14 is born in 8:1-4. He is a sign of salvation from their human enemies. This provides the type or pattern for the birth of another child, Jesus, who will be the sign of a greater salvation. Through Jesus will come salvation from a more fundamental and devastating enemy, sin itself. How will Jesus save them from their sins? His blood will be poured out "for the forgiveness of sins" (Matt. 26:28). In light of the promise of Jesus' coming, what is the proper response of God's people?
The second day's reading (Genesis 18:1-15, 21:1-8) is an instance of God's faithfulness in fulfilling his promises. God promised Abraham an heir, a son, and Abraham believed the Lord's promise to him regarding numerous descendants (15:4, 6). However, Abraham's faith is tested, because the Lord does not fulfill his promise right away. The Lord reaffirms his promise when Abraham is 99 and Sarah is 90 (17:17-22). In 18:12, Sarah laughs at the thought that she will have a child in her old age. The Lord's response calls for faith in the face of the impossible ("Is anything too difficult for the LORD?" Gen. 18:14, NASB). The story of the birth of Isaac, then, becomes an important instance of a miraculous birth, a birth that shows the Lord's faithfulness in keeping his promises. The birth of Isaac shows that the proper response to God's promises is faith.
The third and fourth day's readings come from 1 Samuel 1:1-2:11. Hannah's story is a hopeful one. She cannot have children and is greatly distressed by this. Hannah prays earnestly for a son and the Lord answers her prayer. Surely, she is an example of faith in the Lord, but that is not the only reason why this reading is included here. Hannah's song in 1 Samuel 2:1-10 has interesting parallels to the song of Mary in Luke 1:46-55. In particular, Hannah draws attention to the fact that the Lord tends to exalt the humble, like he has done in her case. Notice 1 Samuel 2:10. Hannah speaks about the king and anointed one (Messiah), in a time when there is no king yet.  Thus, the end of her song anticipates the king who is coming. Her son, Samuel, will anoint both Saul and David.
Readings five to seven progress from Luke 1:5-2:7. The story of Zechariah and Elizabeth has obvious parallels to the previous stories above. The Lord answers Zechariah's (and Elizabeth's) prayer for a son in a miraculous way, for Zechariah and Elizabeth are old enough that John's birth is surely a special work of God (1:7, 13). An even more special work of God takes place in the case of Mary and the birth of Jesus, the Messiah, that is, God's anointed King in the line of David. Notice Luke 1:37 ("For nothing will be impossible with God") and the mention of Mary's faith in the Lord's promise to her (1:45). Mary's song is important and worthy of careful reading. At the end, it makes some important affirmations concerning the Lord's action on behalf of Israel and his fulfillment of his ancient promises to Abraham (1:54-55). Zechariah's song is significant as well (1:68-79). He proclaims the coming of something great, a salvation associated with both the "house of David" (1:69) and with forgiveness of sins (1:77). It is a salvation that the prophets predicted long ago (1:70). In his own time, the Lord fulfills his promises. So, what is the proper response to the revelation of God's plan for fulfilling his promises? Over and over again, we see that the proper response is faith.