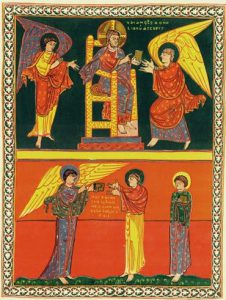 Revelation as a Book of Theology and Guidance for the Christian Life Now
The idealist approach differs radically from the historicist. It would be attractive to someone who is tired of conflicting attempts to pinpoint how Revelation is fulfilled in specific past or future events. The idealist approach focuses on some of the main points of the theology of Revelation, like assurance of the victory of Christ over Satan and his allies. The idealist divides the book into major sections. Each major section describes events that span the course of history from Christ's first coming to his second coming. The stress of the idealist falls upon looking to Revelation for principles that would help Christians to live rightly in the here and now. In doing so, it is going to be unsatisfying to those who want to know what Revelation says about the future and the end events. The idealist approach is a helpful challenge to interpreters. It challenges them to bring out the relevance of the book's message for the Christian life and worldview.
To get a good overview of what an idealist approach would look like, see Sam Hamstra's presentation in C. Marvin Pate's Four Views of the Book of Revelation (pp. 95-131). He says, "In times like these, you need a word from the Lord. You don't need a history lesson of the militant church of either the first or last century. You don't need a prophetic vision of a day you will never experience in this life. At this moment in your struggle with sin and evil, you need a hope-filled word from the Lord. You need the Apocalpyse of John now" (p. 98).
---
Other Sources:
These paragraphs represent an expansion of a portion of my book:
Paul Hoskins, The Book of Revelation: A Theological and Exegetical Commentary, p. 31.
Click on the images below to check out these books.