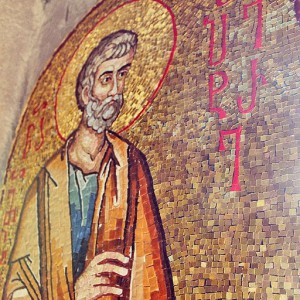 ἵνα τὸ δοκίμιον ὑμῶν τῆς πίστεως πολυτιμότερον χρυσίου τοῦ ἀπολλυμένου διὰ πυρὸς δὲ δοκιμαζομένου, εὑρεθῇ εἰς ἔπαινον καὶ δόξαν καὶ τιμὴν ἐν ἀποκαλύψει Ἰησοῦ Χριστοῦ
Translation:
so that the genuineness of your faith, which is more precious than gold (which is perishable but tested with fire), might be found unto praise and glory and honor at the revelation of Jesus Christ,
 Some Theological Notes:
1. τὸ δοκίμιον ὑμῶν τῆς πίστεως πολυτιμότερον χρυσίου τοῦ ἀπολλυμένου διὰ πυρὸς δὲ δοκιμαζομένου. Here and in 1 Peter 1:18 the value of perishable things is compared with the value of that which is imperishable. In this case, the genuineness of their faith is more valuable than gold. Gold is something perishable, but its genuineness is tested with fire. Similarly, their trials ("various trials" of 1:6) are like the fire that purifies the gold. They are producing faith that is truly genuine (Goppelt, 1 Peter, 90-91). Its genuineness will become evident when Jesus Christ is revealed.
2. εὑρεθῇ εἰς ἔπαινον καὶ δόξαν καὶ τιμὴν ἐν ἀποκαλύψει Ἰησοῦ Χριστοῦ. Obviously judgment is what is being spoken of here and the one who does the finding is the judge, Jesus Christ (Goppelt, 1 Peter, 91-92). The praise and glory and honor are probably primarily offered to God (see 1 Peter 4:11, Clowney, 1 Peter), but they could be bestowed upon his faithful servants (Michaels, 1 Peter; Davids, 1 Peter; see 1 Peter 5:4).
3. Notice that what is happening now (the refining of faith through trials) results in something (genuine faith) that will be revealed when Jesus returns ("revelation of Jesus Christ"). The contrast between present and future is familiar from the previous verses. Here the focus is on the future.
 Coming Up: Notes on 1 Peter 1:8
This post is part of a series of posts on 1 Peter. To read the other posts in the series, click here.
For a helpful commentary on 1 Peter, see Ramsey Michaels, 1 Peter.