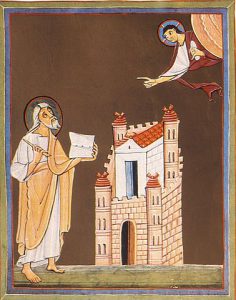 Revelation 1:9-11 says, "I, John, your brother and fellow partaker in the tribulation, kingdom, and perseverance that are in Jesus, was on the island called Patmos because of the word of God and the testimony of Jesus. I was in the Spirit on the Lord's day and I heard behind me a loud voice like a trumpet saying, 'What you see write in a book and send it to the seven churches, to Ephesus, to Smyrna, to Pergamum, to Thyatira, to Sardis, to Philadelphia, and to Laodicea.'"
Philippians 1:7 says, "It is right for me to think this way about all of you, because I have you in my heart, since both in my chains and in the defense and confirmation of the gospel, you all are my fellow partakers of grace."
John and Paul have something in common here. They are both isolated from their flocks due to exile or imprisonment. In the case of John, Jesus calls him to write the book of Revelation and to send it to the churches of Asia Minor. Paul already has a pattern of writing to churches, but this way of ministering becomes even more important when he is in prison. The situations (prison and exile) that created the need for them to produce these written works surely seemed unfortunate at the time. However, we are glad that it led them to write to the churches and that these writings have been passed down to us.
Many pastors, church leaders, and small group leaders can relate to this feeling of isolation from their flocks as we face the forced isolation of March and April (and May?) of 2020. Worship services have gone online. Phone, email, or online meetings have become the norm for connecting with the flock. What can we learn from John and Paul? Perhaps this isolation presents an opportunity for us to learn to encourage one another even when we are not together. What are the timely words that we need to share to meet the needs of our fellow believers? Each of us would answer that a different way, and the answer would depend on the day and the people to whom we are speaking. May the Lord give us the words to say and the right way to approach people in the current moment.
Here are some timely words from Paul and John to address the needs of the flock:
Philippians 4:4-7
Rejoice in the Lord always. I will say it again: Rejoice! Let your gentleness be evident to all. The Lord is near. Do not be anxious about anything, but in every situation, by prayer and petition, with thanksgiving, present your requests to God. And the peace of God, which transcends all understanding, will guard your hearts and your minds in Christ Jesus (NIV).
Revelation 3:17-20 (from the words of Jesus in the Laodicea letter; an encouragement to take stock of themselves and repent that ends with an encouraging promise)
Because you are saying, "I am rich," and "I have become rich," and "I am in need of nothing," but you do not know that you are wretched, pitiful, poor, blind, and naked, I advise you to buy from me gold refined by fire so that you might become rich, and white garments so that you might clothe yourselves and the shame of your nakedness might not be revealed and eye salve to anoint your eyes so that you might see. Those whom I love I rebuke and discipline. Therefore, be zealous and repent. Behold, I am standing at the door and knocking. If anyone might hear my voice and might open the door, then I will come in to him and dine with him and he with me (translation from Hoskins, Revelation, 112).