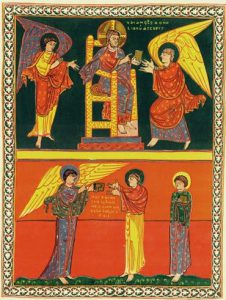 The Apocalypse of St. John: The Greek Text with Introduction, Notes, and Indices. Henry Barclay Swete. London: Macmillan, 1911. 338 pp. plus 220 pp. of introduction.
H. B. Swete was Regius Professor of Divinity at Cambridge from 1890-1916. His predecessor in that position was the well-known B. F. Westcott. Swete's commentary on the book of Revelation continues to be referred to today, because it is a helpful volume for the scholar, seminarian, and pastor. Since it was very highly recommended, this commentary was the first Revelation commentary that I ever purchased.
More Accessible Than It Appears to Be
At first glance, the commentary does not appear to be user-friendly. The Greek text of Revelation is at the top of most pages outside of the introduction. In his comments on specific verses, Swete often provides quotations from Church Fathers and other ancient sources in Greek or Latin. Immediately, this creates the impression that this is a higher-level book that is only useful and accessible for those with great skill in Greek and Latin. However, many of Swete's comments are in fact highly accessible and helpfully brief. On passage after passage in the book of Revelation, I have found his comments to be worthy of careful consideration.
General Areas of Usefulness
In terms of usefulness, I have found this commentary to be helpful in several areas:
1. Concise, helpful comments on the text. Swete's two-column format and desire to accomplish a variety of goals means that his actual comments on each verse of Revelation are succinct. His comments are generally judicious and insightful, although his tendency toward preterism dominates his comments on certain chapters, like Revelation 13 and 17.
2. Greek grammar and syntax. Swete's grammatical comments are not common, but they tend to be worthy of attention. For instance, see his comments on the two accusatives at the beginning of Revelation 1:20 (p. 21). Also, see his discussion of the relationship between the last two clauses of Revelation 18:23 (pp. 240-1).
3. History of interpretation. Swete contains many quotations from ancient commentators, as well as a variety of other sources, including Greco-Roman sources. These are generally in their original languages. For example, Swete reports that Victorinus, Andreas, and Arethas relate the 24 elders of Revelation 4:4 to the 12 apostles and the 12 sons of Jacob/Israel (p. 69).
4. Connections to the OT. Swete is also known for his work with the Old Testament in Greek. It is not surprising that he has a number of insights regarding Revelation's allusions to the Old Testament. For example, he is one of the few interpreters who notes that "gave birth to a male child (ἄρσεν)" (12:5) is similar to the language of Exodus 2:2 in the LXX (p. 150).
Coming up: Swete's overall approach to the book of Revelation and comments on his introduction.
Download Swete's commentary from archive.org or buy it from Amazon.com.